A Great Place to Watch the Game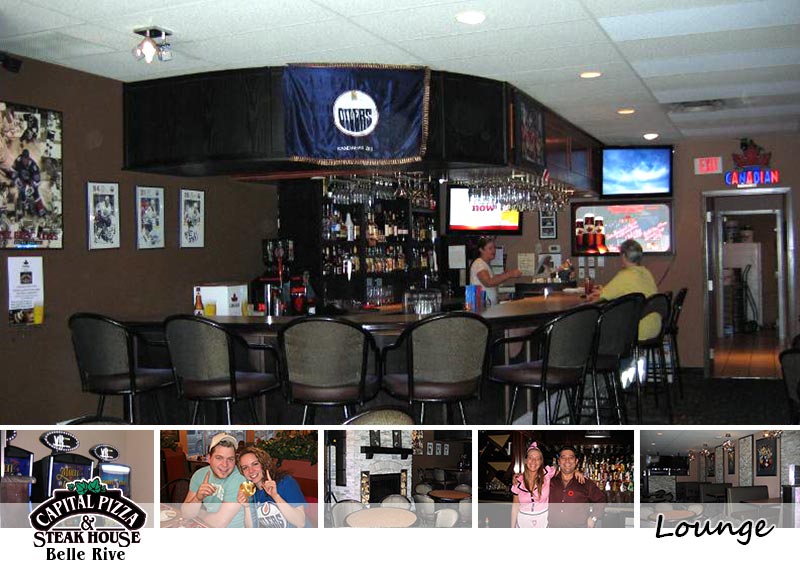 Visit our newly renovated lounge with four (4) different kinds of Draft Beer.
Watch your favourite sports on our six (6) different High Definition TVs.
Cozy and friendly, the lounge at Capital Pizza Belle Rive is your neighbourhood pub, sports bar and VLT location all rolled into one. Plus, our restaurant menu and specials are available as well - so you can enjoy Happy Hour while watching your favourite sports on the big screen TVs.
The lounge features:
Lounge Happy Hour from 11am until 6pm
6 HD TVs to enjoy all your favorite sports programming - from golf and football to hockey, soccer and baseball
Daily drink specials
4 VLT machines to try your luck
We take reservations! Call us at (780) 457-0909
Capacity of 87 - we have space for your largest get-together
We carry Kokanee, Canadian and Alexander Keith's on tap - and a large variety of bottled beers
Daily Drink Specials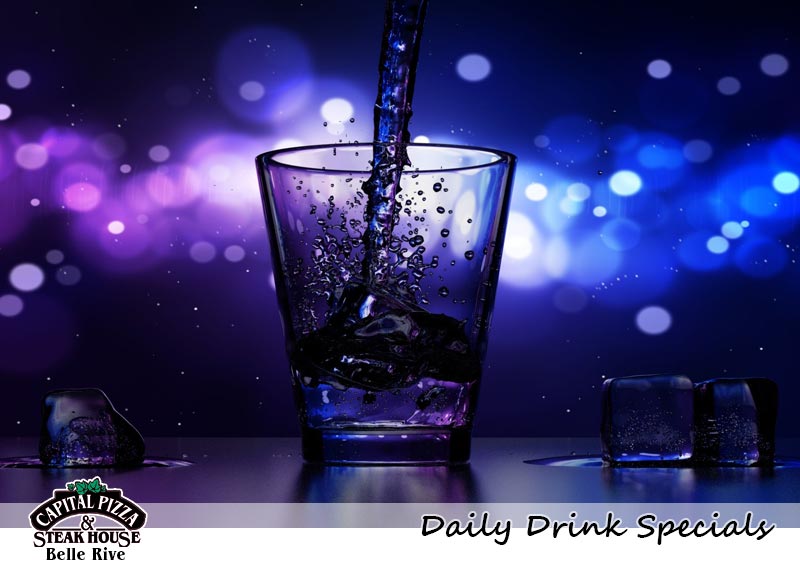 Monday
White or Red Wine (6 oz) $6
Sleeves of Molson Canadian (16 oz) $4.5
Tuesday
Domestic bottled beer (330 ml) $5
Fuzzy Navel (1 oz) $5.5
Wednesday
Bottle of Wine select variety $21
Coors Banquet (16 oz) $5
Thursday
Sleeve of Rickards Red (16 oz) $5
Screwdriver (1 oz) $5.5
Friday
Imported Beer $6
White Russian (1 oz) $5.5
Saturday
Wine (Red or White) $10 off select bottles
Pilsner tall can $5
Sunday
Classic Caesar (1 oz) $5
Canadian Draft (16 oz) $4.5
Daily Specials
Lounge Happy Hour:
11am until 6pm

Please note that prices do not include applicable taxes and may change without notice.
Parties & Events
Food and celebration go hand-in-hand at Belle Rive Capital Pizza. So gather around our table for the best:
Birthdays
Anniversaries
Thanksgiving
Holiday Parties
Valentine's Dinners
Graduation Parties
Wedding Showers
Rehearsal Dinners
Baby Showers
Graduation Parties
Business Meetings
Office Gatherings
Retirement Parties
Call (780) 457-0909 today to plan your next celebration at Belle Rive Capital Pizza!