Have Lunch With Us
Whether it's a quick bite at noon, or a hearty afternoon meal, you'll be sure to enjoy lunch at Capital Pizza & Steak House. Our lunch menu is available weekdays from 11:00am until 2:30pm.
Lunch Menu Sections
Desserts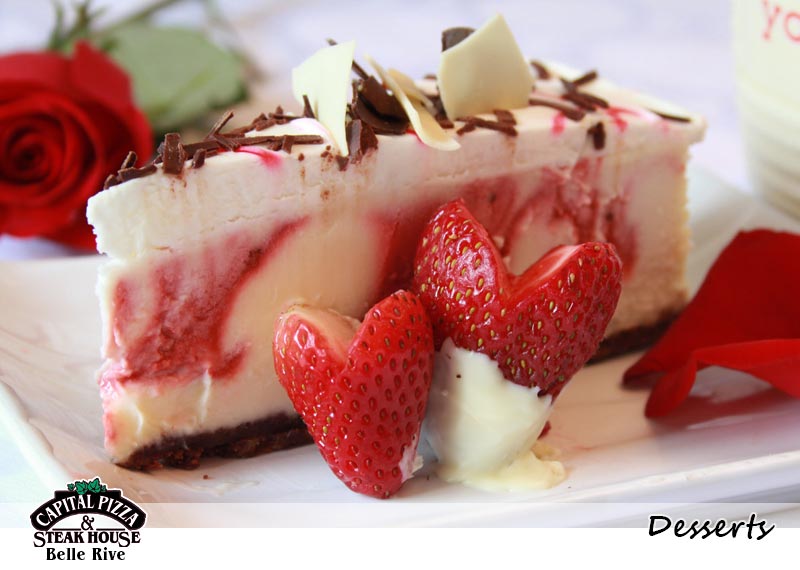 Vanilla cheesecake marbled with strawberry and baked atop a chocolate cookie graham base. Topped with exquisite champagne mousse, strawberry swirls & dark chocolate shavings.
Chock full of diced apples within a moist ginger spice cake. We then top it off with a decadent homemade caramel sauce; served warm and a la mode.
This moist, chewy brownie is topped with a layer of sweet dulce de leche caramel and even more brownie pieces. Yet even more sweet caramel drizzle tops everything off.
Two layers of moist, spicy carrot-laden cake with crushed pineapple, walnuts and coconut, all filled and covered with our delectable cream cheese icing. A mixture of sweet coconut and walnuts covers the top of the cake a white chocolate drizzle finishes it. Toasted almonds skirt the sides.

Please let your server know about any allergies. For pickup orders, please call (780) 457-0909. For online deliveries: Uber Eats or SkipTheDishes