Gourmet Pasta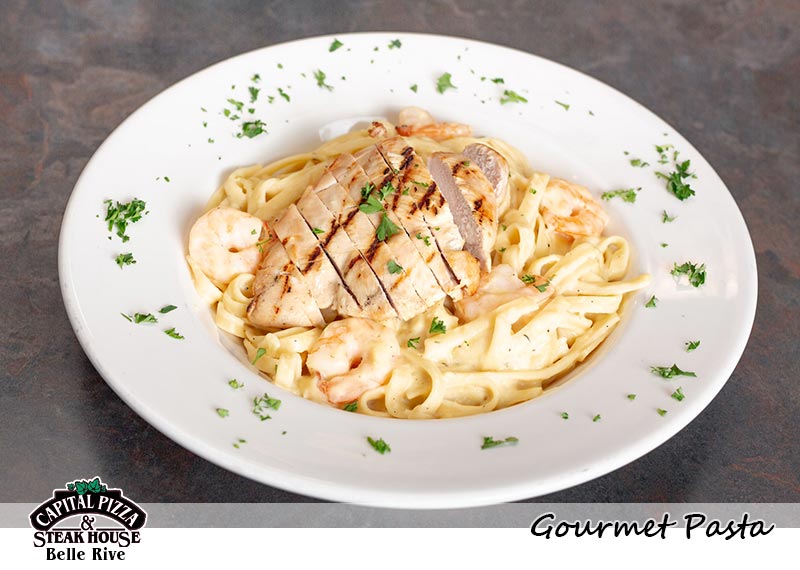 Fettuccine Alfredo
Shrimp Fettuccine
Shrimp and herbs in creamy Alfredo sauce.
Chicken Shrimp Fettuccine
Chicken breast, shrimp, herbs in Afredo sauce, topped with fresh tomatoes.
Garlic Chicken Pesto
Tender chicken breast, fresh garlic, and fettuccine noodles, cooked in creamy pesto sauce.
Fettuccine Carbonara
Smothered in rich cream white sauce with julienne of ham and mushroom, topped with green onions and Parmesan cheese.
Capital Fettuccine Alfredo
Served with shrimp, spinach, tomatoes, fresh garlic, and a creamy white wine sauce.
Capital Penne
Served with grilled chicken, sun-dried tomato, zucchinni, Alfredo, creamy marinara sauce with pesto.

Please let your server know about any allergies. For pickup orders, please call (780) 457-0909. For online deliveries: SkipTheDishes or DoorDash or Uber Eats
Our Italian Specials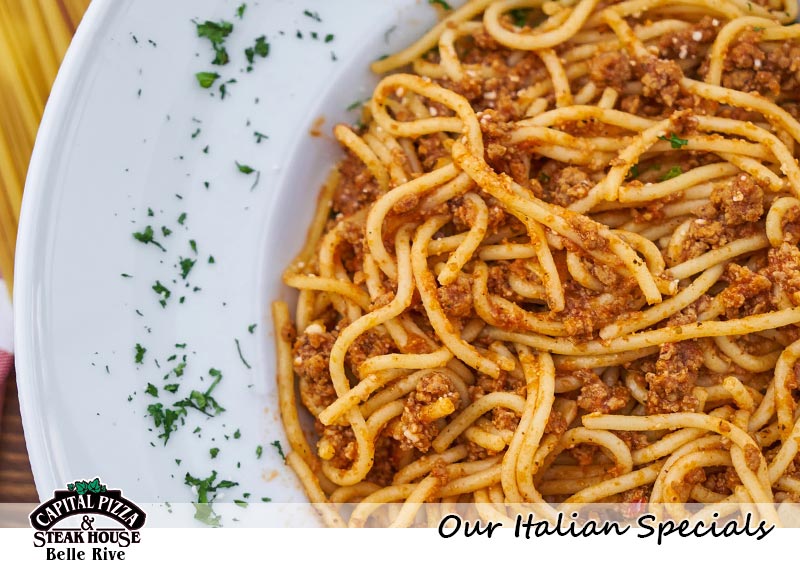 All of our Italian Specials are served with garlic toast.
Mediterranean Lasagna (Baked)
Vegetable lasagna baked with marinara sauce, mushrooms, green peppers, spinach, and feta cheese.
Chicken Fettuccine Alfredo (Baked)
Seafood Lasagna (Baked)
Baked with shrimp, crab meat, and white creamy sauce.
Super Lasagna (Baked)
Baked with meat sauce, mushrooms, and green peppers.
Meat Lover's Lasagna (Baked)
Baked with salami, pepperoni, ham, bacon, and beef in our famous Capital meat sauce.
Spaghetti with Meat Sauce
Baked Spaghetti with Meat Sauce
Baked Beef Ravioli with Meat Sauce
Baked Lasagna with Meat Sauce
Baked Penne with Meat Sauce
Penne Alfredo
Penne with Meat Sauce

Please let your server know about any allergies. For pickup orders, please call (780) 457-0909. For online deliveries: SkipTheDishes or DoorDash or Uber Eats